The Riverside Police Department is a Civil Service Commission Police Department. If you wish to become a Riverside Police Officer, you must first take the New Jersey Civil Service Commission entry exam. Information on the exam and announcements can be found here.
Once your application for the Civil Service Commission exam has been submitted, the NJ CSC will notify you of when and where you will take the examination. If you pass the examination, you will be placed on a list of eligible candidates, where your ranking will be based on your test score. The NJ CSC will notify you of your test score and position on the eligible candidates' list. Any questions regarding the written test, results, or your placement on the list of eligible candidates should be directed to the New Jersey Civil Service Commission.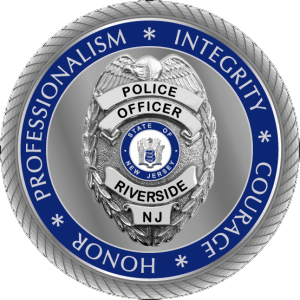 If your position on the NJ CSC list is reached, you will be contacted by the Riverside Police Department, who will then schedule your interview and initiate your background investigation. Candidates who pass all facets of the background check and are selected for hire are then eligible to enter the police academy.
Class II Special Police Officer/ Part-Time Police Officer
The Riverside Police Department does at times employ Class II Special Police Officer and part-time Police Officers. Fully trained Class II Special Police Officers and fully trained Police Officers seeking part time work may apply by submitting the application below along with a resume' and letter of interest. The submission of those documents in no way guarantees an interview or employment.
Persons wishing to apply for the position of Crossing Guard or part-time/substitute Crossing Guard can apply by completing the attached application and returning it to P.O. Box 188 Riverside, NJ 08075. Crossing Guard hours are generally Monday through Friday 6:55 a.m. until 8:15 a.m. morning session and/or afternoon session 1:50p.m. until 3:15 p.m. The current pay rate is $18 per session. Application submission in no way guarantees an interview or employment