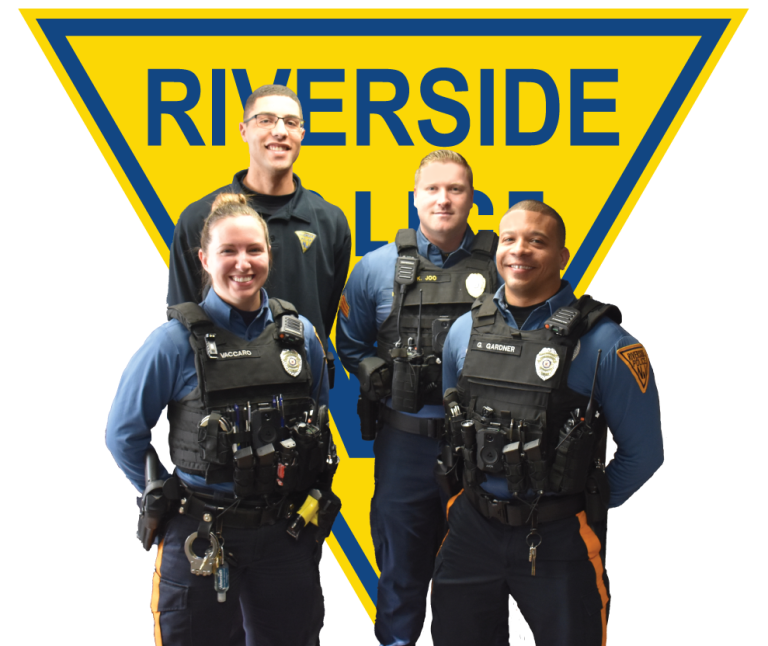 Make a difference in
YOUR
community!
The Riverside Police Department is a Civil Service Commission Police Department. If you wish to become a Riverside Police Officer, you must first take the New Jersey Civil Service Commission Law Enforcement Entry Exam. Information on the exam and announcements can be found here.
Once your application for the Civil Service Commission exam has been submitted, the NJ CSC will notify you of when and where you will take the examination. If you pass the examination, you will be placed on a list of eligible candidates, where your ranking will be based on your test score. The NJ CSC will notify you of your test score and position on the eligible candidates' list. Any questions regarding the written test, results, or your placement on the list of eligible candidates should be directed to the New Jersey Civil Service Commission.

Preference is given to veterans and Riverside Township residents.

Eligible candidates may then be contacted by the Riverside Police Department for an orientation and mentoring session followed by an interview, and commencement of a background investigation. Candidates who pass all facets of the background check and are selected for hire are then eligible to enter the police academy.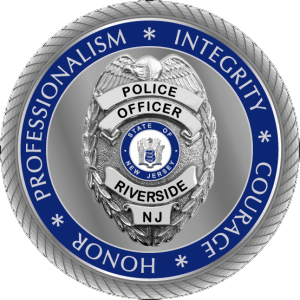 QUALIFICATIONS
Citizen of the United States of America
Ability to read and speak English
High school diploma or G.E.D.
Valid NJ driver's license
Pass medical & psychological evaluations
Pass background investigation 
                            BENEFITS
Officers typically work 84 hours biweekly on 12 hour shifts. Overtime is voluntary, except in unusual circumstances, and is rewarded with premium pay or compensation time.
Salary

Academy Rate $40,000
Starting Salary $58,036

Medical, Dental, Presciption
Pension Plan
Deferred Compensation
Life Insurance
Vacation, Holiday, and Sick Time
                                                                  AUTOMATIC DISQUALIFIERS
The applicant was convicted of an indictable offense or is presently under an indictment.
The applicant was convicted of any offense involving domestic violence.
The applicant was convicted of any bias offense.
The applicant was convicted of two or more offenses of driving while intoxicated
as defined under N.J.S.A. 39:4-50 or was convicted of driving while intoxicated as defined under N.J.S.A. 39:4-50 within the last five years.
The applicant is currently on probation or has been on probation at any time within the last 12 months.
If the applicant pled guilty or has been found guilty of any motor vehicle moving violation five or more times within the past two years.
The applicant has been dishonorably discharged from any branch of military service or law enforcement agency.
The applicant was adjudicated by a court or found by an employer to have violated any person's civil rights.
The applicant was convicted of an offense involving or touching on previous public office, position or employment. See N.J.S.A. 2C:51-2(d).
The applicant, having been a citizen of the United States, has relinquished his or her citizenship.
The applicant is subject to a restraining order for harassing, stalking, or threatening, or a restraining order for any domestic violence related offense.
The applicant sold, manufactured or distributed any illegal controlled substance in his or her life.
The applicant engaged in the unauthorized usage of any illegal drug while employed in a position of public trust.
Tattoo/Body Art/Brand Policy

No tattoos/body art/brands on an applicant's face, head, neck, scalp, hands, or any part of the exposed body. If the tattoos/body art/brands are deemed visible when in uniform or in civilian clothing while on duty, the tattoos/body art/brands must be removed and healed prior to the Medical Phase of the selection process. This includes any degree of visible and deliberate altering or mutilation of the human anatomy in the interest of artistic or other form of self-expression, including, but not limited to: piercing, skin implants, gauges, forking of the tongue, dental ornamentation, etc.
No applicant shall publicly or privately display a tattoo/body art/brand that is prejudicial to good order, discipline, or causes a discredit to the member or the Riverside Township Police Department.
In addition to the Tattoo / Body Art / Brands Policy, dermal piercing and scarification are also not permitted.
Compliance with these requirements is not required until the time of the medical phase of the selection process. Applicants who remain noncompliant with these standards will not be appointed to the Academy.
Class II Special Police Officer/ Part-Time Police Officer
The Riverside Police Department does at times employ Class II Special Police Officer and part-time Police Officers. Fully trained Class II Special Police Officers and fully trained Police Officers seeking part time work may apply by submitting the application below along with a resume' and letter of interest. The submission of those documents in no way guarantees an interview or employment. The current pay rate is $18 per hour.
Persons wishing to apply for the position of Crossing Guard or part-time/substitute Crossing Guard can apply by completing the attached application and returning it to P.O. Box 188 Riverside, NJ 08075. Crossing Guard hours are generally Monday through Friday 6:55 a.m. until 8:15 a.m. morning session and/or afternoon session 1:50p.m. until 3:15 p.m. Application submission in no way guarantees an interview or employment.
The Riverside Township Police Department offers college student internships to resident college students that are studying criminal justice and are committed to a career in law enforcement. We believe students and the police department both benefit from shared experiences. Students work on operational, administrative and support functions, while in an atmosphere of learning through a combination of hands-on and observational experiences. All internships must be approved and accepted for credit for a course the student is currently enrolled in.
RIVERSIDE POLICE EXPLORERS
The Riverside Police Explorers Post is an organization affiliated with the Boy Scouts of America. The Explorers learn and experience different aspects of law enforcement under the supervision and guidance of members of the Riverside Police Department. Although they have no law enforcement authority, they often augment the Police Department by assisting with community related functions. The Explorers Program is open to youths between the ages of 15 and 21, many of whom have a desire to pursue a career in law enforcement. Interested parties should click the qualifications link below to see if he/she qualifies for the program. The activities of the Explorers include, but are not limited to, training, ride along, and community service, details of which can be found by clicking the activities link below. For further information about the Riverside Police Explorers Program, please contact Officer Anthony Cicali at 856-461-8820 or email him at [email protected]
Riverside Township is an Equal Opportunity Employer